Tomorrow's consumers are more fragmented and more demanding. They will require greater attention to their lifestyle, their sense of fashion and their taste for food and beverages. From a "one product fits all" drinks industry mentality, we will see a fundamental shift to all want a different product to reflect their individuality.
Key to succeeding thus depends on the ability to remain agile and flexible in dealing with the approach towards consumer marketing. Yesterday, the drinks manufacturer focused on control of the whole drinks supply chain. Tomorrow, drinks manufacturer must focus on its core strength, be it manufacturing, sales and marketing, distribution or the combination of these.
From the moment we received the product development brief from our client in confidence, our relationship managers starts by contacting relevant specialist for the job. Upon their recommendation of suppliers, our beverage specialist then set to contact their respective suppliers for the submission of the appropriate raw materials.
Updated on the trends of beverage, our beverage applications specialist works with numerous possibilities of flavors under simulated conditions to determine the precise usage levels and characteristics in the finished product. Evaluation by consumer sensory panels helps to ensure the specific target is met.

Specifications and quality standards are then established, followed by a preliminary scale-up of the flavor. Only after the customer is completely satisfied do we compound the flavor. Our finished flavors are exclusively available only to our customers.
In every step of the process, our relationship managers are in constant contact with out clients to ensure that our work is consistent with the product directions. This active communication ensures that our client's requirements are met, from project inception to the on-time delivery of the raw materials, and flavors.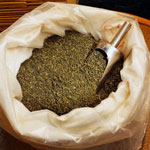 First established as a provision store retailing in specialty Chinese tea from China. Lim Lam Thye has expanded its business operation to include the sourcing of food commodities, tea processing, blending and packing. We source our tea and herbs from growers and plantations all over the world.
To add value to the growing needs of our customers, Lim Lam Thye also provides assistance in area of product development for the food and beverage industry. We source tea and herbs from reputable growers and plantations all over the world. To ensure that the quality is consistent, our tea taster is responsible for the supply chain of the raw materials shipping into our warehouse and right to the fulfillment of the order.